Do you know that today, owning a business is not a difficult thing to achieve? This happens because of the rapid technological advancement, allowing you to sell anything online with the help of the internet. With the internet, you can easily start your business. Starting from looking for raw materials or suppliers, doing promotions, setting up shops, to connecting people to sell your business. Everything can be done online. You can start a business without having to own a store or a large number of employees. You can even run your own business! Now, who's interested in setting up an online business?
Although making an online business look easy and can be run by anyone, it doesn't mean it can be taken lightly. Even with technological advances that offer various conveniences, you don't want to be careless in making sales. A special strategy is needed so that your business can gain more money and survive amid the onslaught of online business that grows increasingly in Indonesia. Surely, you don't want your online business to lose out on the competition.
Therefore, you must prepare various strategies to increase sales on your online store. Do you want to know the tips? Let's follow these 5 tips to gain maximum profits on your online business!
1. Hold Product Bundling and Loyalty Programs
Your shop has a best-selling product? Well, you can make bundles containing your favorite products with a cheaper price and a limited time. So, potential buyers will feel compelled to buy the product because they feel that the goods offered are products with limited offers.
You can also create product bundles that contain your favorite products and products that have just been launched. This is expected to increase exposure for products that have just been launched. Then your online store sales will most likely increase!
Your online store doesn't have a favorite product yet? It's alright! You can also create a loyalty program for your loyal customers. For instance, by giving gifts or discounts. Thus, potential buyers will be more encouraged to proceed on shopping at your online store.
2. Make Ads For Promotions
Promotion is something that must be done when you have a business. That way, the products you sell will be increasingly recognized and attract buyers. There are so many the promotion platfroms and ideas you can do nowadays. You can do promotions on Facebook or Instagram ads to introduce your products, or you can even do endorsements or paid promotions by influencers that you think are suitable for your business. That way, your product will be more known by the public.
All promotional channel choices have their own advantages and disadvantages. Decide for yourself which promotions are best and suitable for your business and don't be afraid in determining the budget for promotions because only by promoting can your product be more known and allows customers to buy.
3. Maximize Features in E-commerce and E-wallet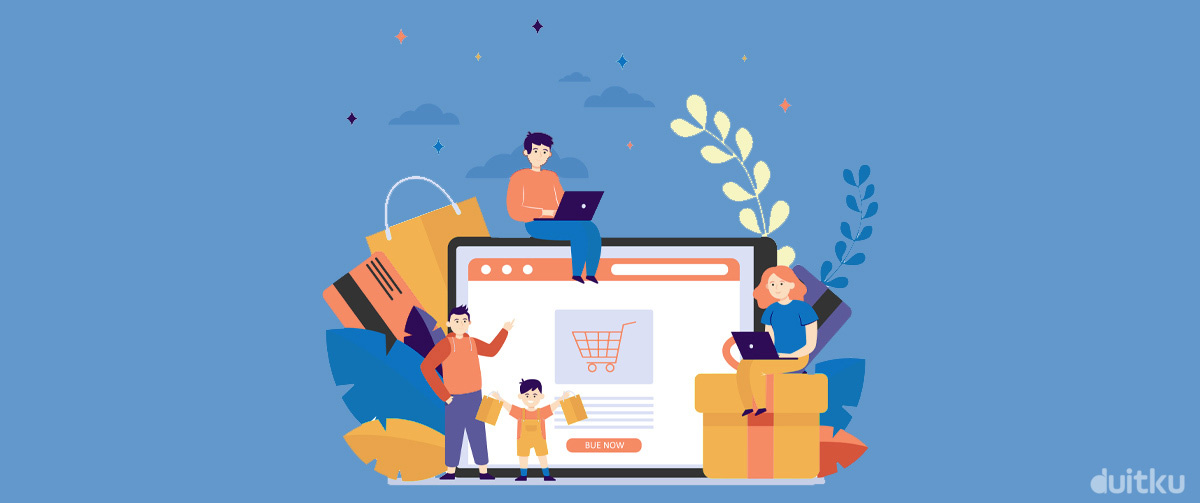 Do you know that the rapid growth of e-commerce and e-wallet indirectly helps the development of online stores? This is due to the increasingly complete e-commerce features. Therefore, you need to maximize the use of these features. For example, by participating in flash sales, live sale streaming, and so on so that you can reach potential buyers from various segments.
The development of e-wallet also does not make the payment methods left behind. E-wallet always innovates for the better to make transactions easier for its users, starting from paying using a scanned QR code, to paylater, a method where you can do a purchase even when you have no balance. In addition, the increasingly fierce competition of e-wallet providers in Indonesia has made them compete to carry out promotions and cashback programs. You can contact the e-wallet provider that you use to apply for the cashback program. So, make sure your online store accepts payments by e-wallet.
4. Use Google Analytics and Google Trends
Are you still not sure yet about what online business to start? You can also use the help of Google tools to increase your sales, such as Google Analytics and Google Trends. Google Trends allows you to find out what keywords are being accessed frequently. From there, you can see what product trends are often sought after and in demand by the public. Voila! Now you can choose the products that you can prepare for your business!
Besides Google Trends, there is also Google Analytics which is useful for finding out what search keywords are often used by potential buyers to find the products you sell. You can add these keywords to your product name to increase the exposure of your selling product. The more people find your products online, the more potential buyers you might have!
5. Make it easy for customers to make payments for your products
According to Microsoft research (hyperlink to https://core.ac.uk/download/pdf/215279457.pdf), 60% of shoppers admit to making impulsive purchases more than once per month. The complication of the check-out process or the lack of payment methods provided sometimes makes customers unwilling to make transactions and they end up not buying your products.
One of the things that sellers can do to provide a seamless shopping experience is to integrate the checkout process and payment for your online store directly on your website or application using a payment gateway. A payment gateway is a technology to make it easier for your business to accept online payments from a website or app. A payment gateway functions as a channel that connects the holding account to the platform where you make transactions, so you don't need to provide multiple accounts for your business transactions.
By using a payment gateway, all your business transactions will take place online automatically, so customers can make transactions anytime and anywhere easily. So, you can focus on growing your business without having to waste your time handling transactions in your business. Check here (link to an example blog post) for more detailed information on how a payment gateway can encourage potential buyers to purchase your product online.
Those are 5 things you can do to reach maximum profits on your online business. Now, are you interested in doing it or do you have your own tips?
Increasing sales at online stores is indeed easy and difficult at the same time. However, it all depends on how we deal with it. For that, choose the right partner to develop your online store, such as Duitku (link to homepage). With Duitku, you will enjoy various conveniences to manage all your business transactions. You don't need to worry because Duitku has an official permission from Bank Indonesia and meets international security standards. We believe that with Duitku, all your business transactions will be faster, easier, and won't be complicated. Let's start your success with one transaction!